UV Bacteria Removers
The small portion of the electromagnetic spectrum with wavelengths ranging between 100 and 400 nm (thousandths of microns) is defined as the ultraviolet radiation range; UV-C is part of the sub-range with wavelengths ranging between 100 and 280 nm. Electromagnetic waves of different wavelengths and amplitudes generate interactions with matter of different nature, whereby thanks to its strong germicidal power, UV-C radiation with l= 254nm is of particular interest.
The high germicidal power of this wavelength is all to do with its DNA and the binding of its key components (nucleotides). DNA is a macromolecule found in every living organism which contains all the information required for life and reproduction. Alteration generated by UV-C radiation of certain chemical bonds between nucleotides is capable of changing the information contained and transmitted by DNA, which prevents normal activity and causes irreversible damage and cell death.
TO WHAT EXTENT DO THEY WORK
In order to be effective for sterilisation purposes, an electromagnetic wave must not only be of a certain type (l= 254nm), but it must also have a minimum intensity value to ensure a minimum dosage for the water. This dosage depends considerably on the type of contamination in the water, but generally speaking a plant system should always have a dosage higher than 300 J/m2. A correctly dimensioned UV disinfection system is capable of providing a sufficient dosage to the water to break down almost all of the most common micro-organisms found in the water.
In nature UV-C rays are part of the secondary cosmic radiation which interacts with the upper layers of the earth's atmosphere, generates ozone and, with less energy, reaches the ground in the form of UV (A+B) tanning radiation. UV-C rays can be produced artificially using special fluorescent lamps containing mercury vapours, these lamps are made of pure quartz (>99.99% SiO2) transparent to UV-C light which is almost monochromatic (>95% of l =254nm) when emitted.
There are many advantages brought by this type of technology including: eco-friendly treatment (no added chemicals), no taste alterations, no danger of overdose and no changes to the water characteristics, swift action (no storage tank): the time is that needed to flow through the steriliser, compatibility with other technologies (filtration, softening, etc.) for a complete water treatment, which is also cost-effective and practical thanks to the low consumption of electricity and the low maintenance required.
SEE THE CATEGORIES OF BACTERIA REMOVERS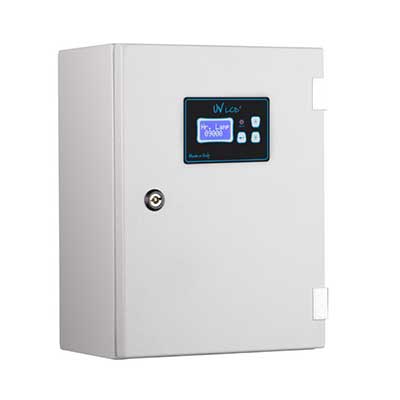 UV SERIE 1
UV SERIE RACK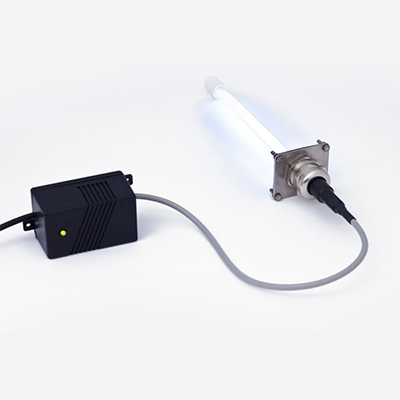 UV AIR